Radio Day: Interview with artist Jenifer Wightman
Recently my favorite pup Lily joined me on an outing to the Siuslaw Model Forest in Acra, NY, where I had a fascinating conversation with artist and scientist Jenifer Wightman as she constructed her art piece, "Transect" -- part of the recent "Whale Oil to Whole Foods" exhibit co-sponsored by the Greene County Council on the Arts and the Cornell Cooperative Extension Agroforestry Center.

Produced by Deborah Artman.
With technical assistance by Leo Joy.
Music excerpts are from Michael Gordon's CDs, Weather and Trance.

Your browser does not support the audio element.

September 20 2012
Radio Day: Interview with British artist James Brady
Another adventure into the Greene County wilderness, this time up to the Platt Clove Preserve. As "Special Correspondent" for the WGXC Afternoon Show, I interviewed British artist James Brady about his first international commission, "Bug Cinema," a solar light sculpture glow lab, which will be installed for one night only at the opening of the outdoor art exhibit, "Whale Oil to Whole Foods," in the Siuslaw Model Forest in Acra, NY, Sun., July 8.
July 8 2012
Radio Day: Interview with CATWALK Writers
Spent a glorious afternoon talking to writers Sara Freeman and Carmen Adamucci in Catskill, NY, at CATWALK, an artist-writer residency program. The interview aired 6/25/12 on The Afternoon Show on wgxc.org. Click link to listen.
June 26 2012
Free Portraits - Great Opportunity!
Published an article on 6/1/12 in the local papers about a new project by the artist Tasha Depp -- an opportunity for Greene and Columbia county residents to get a free portrait and original piece of art by this fantastic painter! Click image for more info.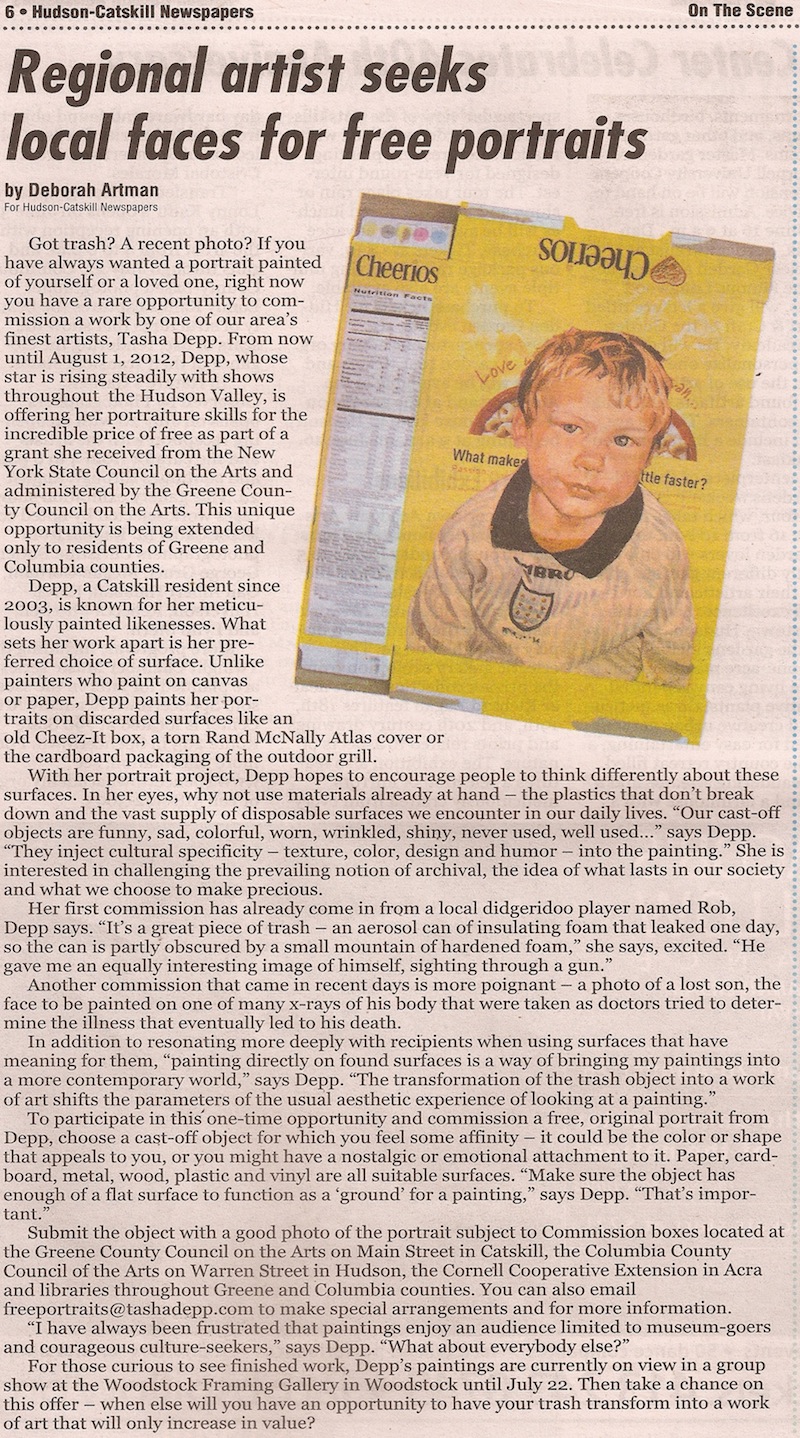 June 5 2012
Your Brain on Fiction
Interesting article in The New York Times ...
http://www.nytimes.com/2012/03/18/opinion/sunday/the-neuroscience-of-your-brain-on-fiction.html?_r=1&emc=eta1&pagewanted=all
April 12 2012
Radio Day
Had a great time in Hudson, NY, today as a featured guest, along with writers Paul La Farge and Dave King, on "The Art of the Hudson Valley," hosted by Chad Weckler on WGXC.org.
Save the Date!
Rumor has it that Lost Objects will be performed at Alice Tully Hall in NYC on April 27, 2012.
SHELTER voted Top 5 Libretto of All Time!!!
Donna Di Novelli includes Shelter in her Top 5 librettos of all time list! Thanks, Donna!
http://www.wqxr.org/articles/top-5-105/2011/may/11/top-five-librettos/