More great pre-show press for Acquanetta!
The New Yorker "Goings On About Town"
https://www.newyorker.com/goings-on-about-town/classical-music/prototype-festival-acquanetta


New York Magazine Critics' Pick

"Michael Gordon's loving gloss on Hollywood horror flicks from the 1940s kicks off Prototype, a concentrated festival of mini-operas scattered around town. Gordon's new work, with a libretto by Deborah Artman, recounts the life of the B-movie starlet who fled her own career, with all the deliberate weirdness and emotional peaks and valleys that Gordon's intense music suggests." — Justin Davidson


Time Out New York
https://www.timeout.com/newyork/news/a-guide-to-new-yorks-explosion-of-performance-festivals-in-january-010218

"If I could only see one, though, it would be Acquanetta, a revival of Michael Gordon's horror opera about the golden age of Hollywood, directed by of-the-moment director Daniel Fish." — Helen Shaw, Time Out


Acquanetta Featured in The New York Times!
More Acquanetta News!


Acquanetta
for 3 Sopranos, Tenor, Bass, with female choir, plus amplified chamber ensemble

Michael Gordon, music
Deborah Artman, libretto

World Premiere, chamber version

January 9-14, 2018
Prototype Festival
Gelsey Kirkland Arts Center
Brooklyn (DUMBO), NY

Produced by Beth Morrison Projects; Directed by Daniel Fish; Conducted by Daniela Candillari; Scenic Design by Amy Rubin & Jim Findlay; Video Design by Josh Higgason; Lighting Design by Xavier Pierce; Costume Design by Terese Wadden; Sound Design by Garth MacAleavey

Cast: Acquanetta - Mikaela Bennett; Brainy Woman - Amelia Watkins; Ape - Eliza Bagg, Doctor - Timur; Director - Matt Boehler; Chorus Members of The Choir of Trinity Wall Street; featuring The Bang on a Can Opera Ensemble

"The opera turns the story of that campy film's star into a somberly ritualistic meditation on public versus private identities."
— Anthony Tommasini, The New York Times


From January 9-14, the Prototype Festival presents the world premiere of the chamber version of Acquanetta, with music by Michael Gordon and libretto by Deborah Artman.

Acquanetta focuses on questions of identity as personified in Burnu Acquanetta, an exotic actress who vanished from Hollywood at the height of her career. The actress Acquanetta starred in the classic 1943 cult horror film Captive Wild Woman, which launched her to fame as a sexy B-movie icon. In the film, a mad doctor conducts a doomed experiment to transform a gorilla into a woman, transplanting a human female's brain and glands into a gorilla.

The vivid characters of Acquanetta — the mad Doctor, the insistent Ape, the Brainy Woman (who reluctantly donates her brain to the experiment), the visionary Director and the beautiful monster herself — speak both as the actors playing their roles and as the film's characters examining the subtleties of the story: who we play versus who we are; what we reveal versus what we hide. Set in the heyday of Hollywood gloss, Acquanetta reveals the characters' inner longings as they wrestle with identity, stereotypes and typecasting.

In Acquanetta, the mock serious, campy spirit of 1940s horror movies is turned inside out in a bravura, one-act deconstruction of the genre.

Produced by Beth Morrison Projects in association with Bang on a Can and Trinity Church Wall Street, the world premiere chamber version of Acquanetta was commissioned by Beth Morrison Projects with lead commissioning support by Linda & Stuart Nelson. Acquanetta was originally commissioned and premiered in a Grand Opera format by Theater Aachen in Germany on June 25, 2005.
COMING SOON!! "ACQUANETTA" WORLD PREMIERE CHAMBER VERSION
January 9-14, 2018 7:30 pm and January 14 at 6 pm
at Gelsey Kirkland Arts Center in Brooklyn, NY
Produced by Beth Morrison Projects in association with Bang on a Can and Trinity Church Wall Street

Composer Michael Gordon
Librettist Deborah Artman
Director Daniel Fish

Originally premiering in a Grand Opera format in 2006 in Aachen, Germany, I am so happy to announce that Acquanetta is coming to America in a new production and world premiere of a chamber version, music by Michael Gordon, libretto by me, and directed by Daniel Fish, as part of the exciting 2018 Prototype Opera Festival and courtesy of Beth Morrison Projects. We took the opportunity to fine-tune the text and music and have assembled a dream cast, with Mikaela Bennett as Acquanetta.

For more information and tickets:

http://prototypefestival.org/show/acquanetta/

https://web.ovationtix.com/trs/pr/980384

http://gkartscenter.org/acquanetta/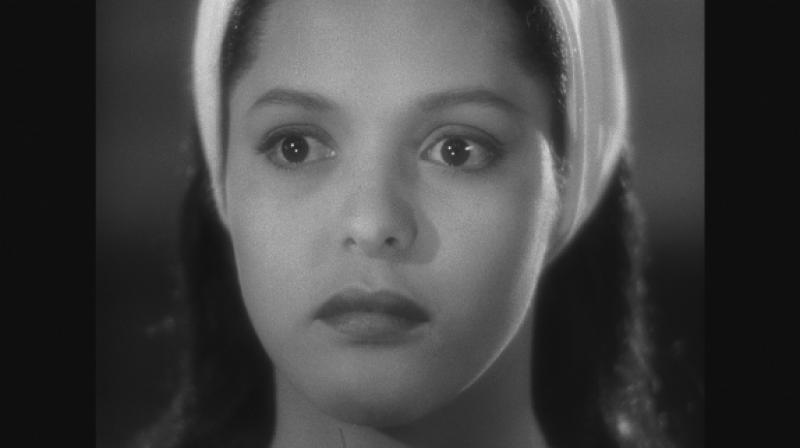 October 17 2017
SHELTER performed by Signal at Walt Disney Concert Hall – May 31, 2015
Signal performs Shelter by Michael Gordon, David Lang and Julia Wolfe, and libretto by Deborah Artman, at the Walt Disney Concert Hall.
Walt Disney Concert Hall
111 S Grand Ave
Los Angeles, CA 90012
Phone: (323) 850-2000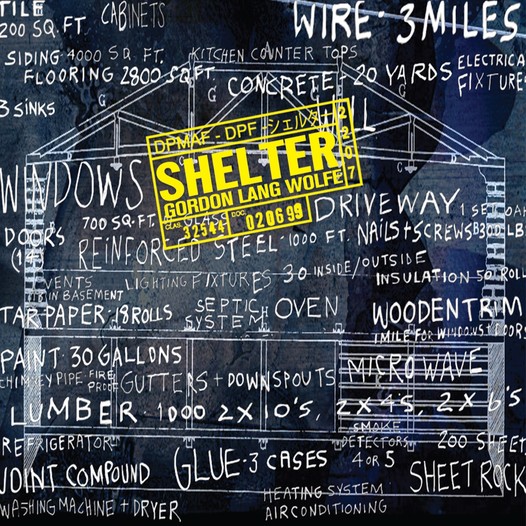 Remix Ensemble Performs SHELTER
Shelter, with music by David Lang, Michael Gordon, and Julia Wolfe, film by Bill Morrison, and a libretto by Deborah Artman, is performed by Remix Ensemble. Tuesday, February 10, 2015 - 7:30 pm.
Casa da Musica
Avenida da Boavista 604-610
Porto, Portugal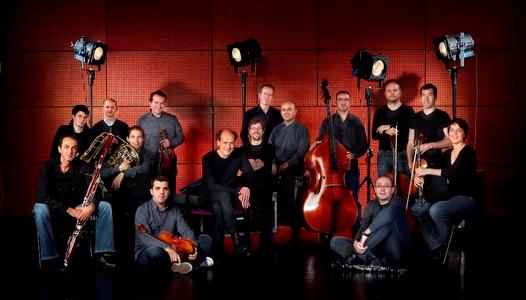 Q2 Music Album of the Week for April 1, 2013 – SHELTER
"Individually, David Lang, Michael Gordon and Julia Wolfe are three of New York's most important composers; together, under the name Bang on a Can, they're an institution and a supergroup. . . . Their new Cantaloupe release, Shelter, reunites the trio with Lost Objects librettist Deborah Artman, for a new oratorio that examines what it means to be at home. Shelter is a universal need, and so Artman and the collective explore it in ways that tease out both the universality of that need and the disparity of the means by which it's addressed." – WQXR Radio, Daniel Stephen Johnson
SHELTER now available on CD! Release date March 26, 2013
Cantaloupe Music
Format CD / Digital

Music by Michael Gordon/David Lang/Julia Wolfe
Libretto by Deborah Artman
Performed by Ensemble Signal with Martha Cluver, Mellissa Hughes, Caroline Shaw – solo voices
Brad Lubman (Conductor)

Shelter is the second of my collaborative works with all three composers Michael Gordon, David Lang and Julia Wolfe, the pioneers, who, over the past 30 years, have completely changed how composers think about writing, commissioning and presenting music. Originally commissioned in 2005 by the Cologne-based musikFabrik ensemble and BAM's Next Wave Festival, this premiere recording conducted by Brad Lubman and performed by Ensemble Signal featuring vocal soloists Martha Cluver, Melissa Hughes and Caroline Shaw, was produced by Michael Riesman. Shelter "evokes the power and threat of nature, the soaring frontier promise contained in the framing of a new house, the pure aesthetic beauty of blueprints, the sweet architecture of sound and the uneasy vulnerability that underlies even the safety of our sleep." – D. Artman

Buy the CD:
https://www.amazon.com/Shelter-Deborah-Artman/dp/B00B5UBGRU/ref=sr_1_11?s=music&ie=UTF8&qid=1508258420&sr=1-11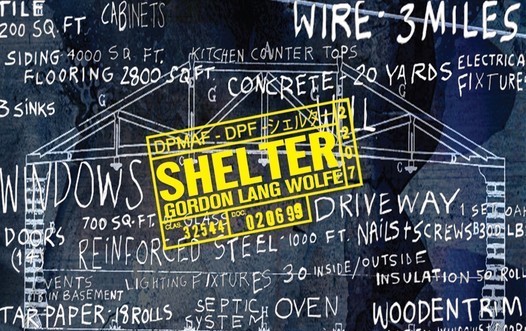 Radio Day: Interview with artist Jenifer Wightman
Recently my favorite pup Lily joined me on an outing to the Siuslaw Model Forest in Acra, NY, where I had a fascinating conversation with artist and scientist Jenifer Wightman as she constructed her art piece, "Transect" – part of the recent "Whale Oil to Whole Foods" exhibit co-sponsored by the Greene County Council on the Arts and the Cornell Cooperative Extension Agroforestry Center.

Produced by Deborah Artman.
With technical assistance by Leo Joy.
Music excerpts are from Michael Gordon's CDs, Weather and Trance.

Your browser does not support the audio element.

September 20 2012
Radio Day: Interview with British artist James Brady
Another adventure into the Greene County wilderness, this time up to the Platt Clove Preserve. As "Special Correspondent" for the WGXC Afternoon Show, I interviewed British artist James Brady about his first international commission, "Bug Cinema," a solar light sculpture glow lab, which will be installed for one night only at the opening of the outdoor art exhibit, "Whale Oil to Whole Foods," in the Siuslaw Model Forest in Acra, NY, Sun., July 8.
July 8 2012
Radio Day: Interview with CATWALK Writers
Spent a glorious afternoon talking to writers Sara Freeman and Carmen Adamucci in Catskill, NY, at CATWALK, an artist-writer residency program. The interview aired 6/25/12 on The Afternoon Show on wgxc.org. Click link to listen.
June 26 2012
Free Portraits - Great Opportunity!
Published an article on 6/1/12 in the local papers about a new project by the artist Tasha Depp – an opportunity for Greene and Columbia county residents to get a free portrait and original piece of art by this fantastic painter! Click image for more info.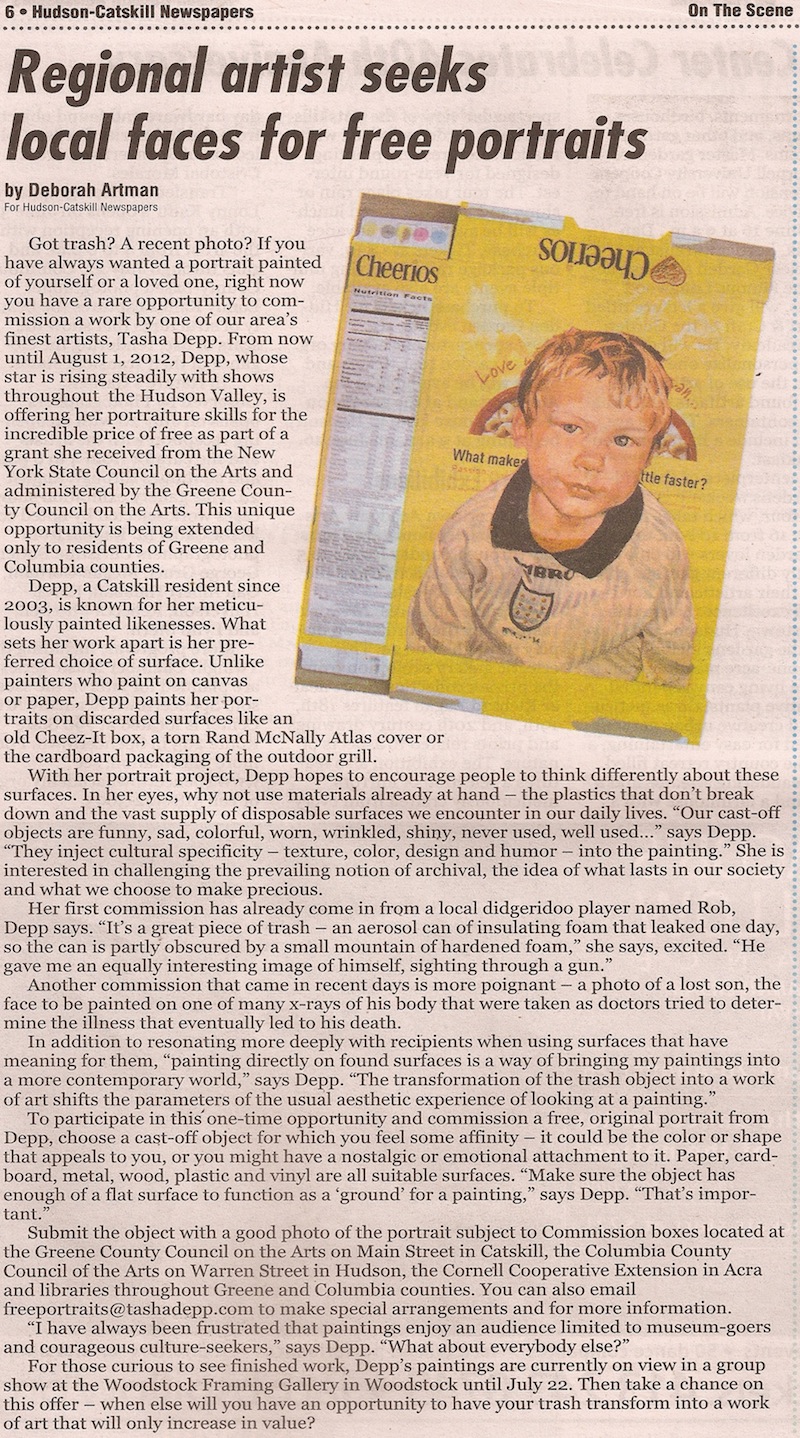 June 5 2012
Your Brain on Fiction
Interesting article in The New York Times ...
http://www.nytimes.com/2012/03/18/opinion/sunday/the-neuroscience-of-your-brain-on-fiction.html?_r=1&emc=eta1&pagewanted=all
April 12 2012
Radio Day
Had a great time in Hudson, NY, today as a featured guest, along with writers Paul La Farge and Dave King, on "The Art of the Hudson Valley," hosted by Chad Weckler on WGXC.org.
Save the Date!
Rumor has it that Lost Objects will be performed at Alice Tully Hall in NYC on April 27, 2012.
SHELTER voted Top 5 Libretto of All Time!!!
Donna Di Novelli includes Shelter in her Top 5 librettos of all time list! Thanks, Donna!
http://www.wqxr.org/articles/top-5-105/2011/may/11/top-five-librettos/